QIANYAN 24-Color Eyeshadow Palette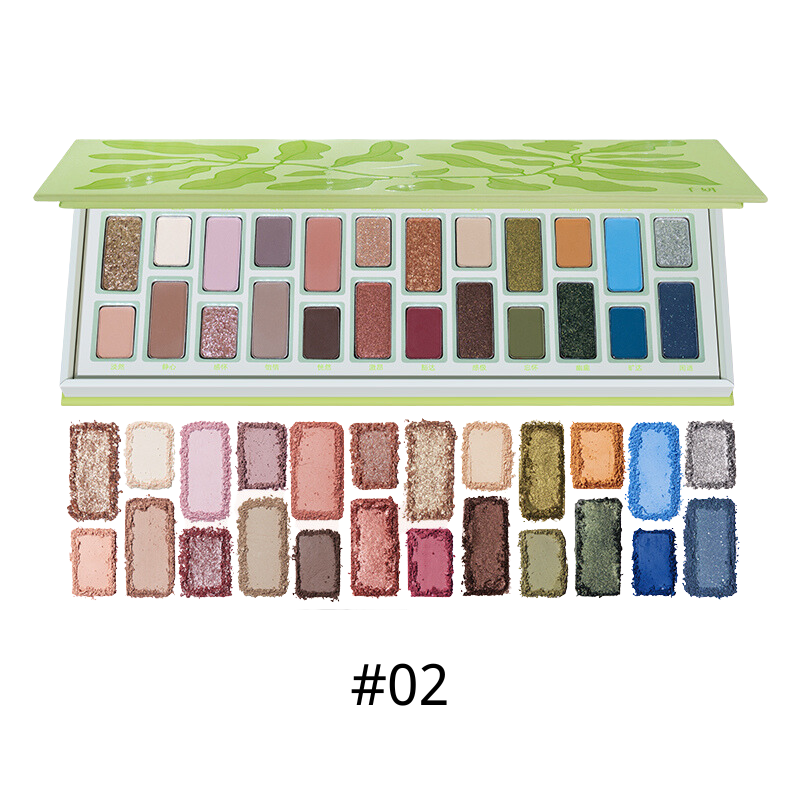 QIANYAN 24-Color Eyeshadow Palette
Welcome

Signup & receive $5, invite to earn more
Regular price
$32.99 USD
$32.99 USD
Free worldwide shipping when you spend $39.99 (US/EU/UK/ASIA) or $69.99(ANZ/CA/CH) or more.
In stock, ready to ship

Inventory on the way
QIANYAN's 24-Color Eyeshadow Palette captures the essence of nature's beauty, offering a wide range of colors from basic to trendy. Whether you're heading to work or a party, these 12 eye makeup combinations allow you to express your style. With 7 layers of light effects, you can create stunning eye looks, and the 4 adjacent colors make makeup application a breeze.
Key Features:
Triple Upgrade in Texture: Smooth, blendable, and highly pigmented. The shimmer is more dazzling than ever.
Color Play Advancement: Optimized monochrome shades, added trendy colors, and easy-to-use four-color combinations.
Refreshed Packaging: Magnetic case design for easy access to shades without color mixing.
Inspiration: The vibrancy of flourishing leaves symbolizes self-expression and vitality, expanding limitlessly in this moment.
Net Content: 16g
Package Dimensions: 208mm x 73mm x 21mm
Shade Options:
"Spring Invasion Palette": Suitable for cooler-toned skin, featuring pink and purple hues. Perfect for beginners.
"Wild Adventure Palette": Ideal for warmer-toned skin, offering a wide range of shades for both everyday and creative looks.
FAQ:
Q: How is the color payoff of these eyeshadows?

A: Some of the eyeshadow shades in the palette are designed to be low in saturation and close to natural skin tones. This creates a subtle and seamless blend with your skin, preventing issues like smudging. For a more pronounced eye makeup effect, you can layer the eyeshadow multiple times to achieve richer colors.

Q: Do these eyeshadows produce a lot of fallout?

A: Fallout typically occurs when eyeshadow is picked up on a brush with too much force or in excessive quantities. What is often mistaken for fallout is actually excess powder from the initial brush pick-up. Please use a gentle hand when applying to minimize this effect.
Oriental Lifestyle Aesthetics! DONG FANG SHENG HUO MEI XUE 'Joy arrives, and radiance follows' - this is the philosophy deeply rooted in the Oriental heritage by Qian Yan. We are concerned not only with the expression of colors and fashion but also with how to be more genuine, free, and joyful. Oriental Active Lifestyle Cosmetics! DONG FANG LE HUO ZHU YI CAI ZHUANG Qian Yan aims to find a balance between makeup and life, classic and modern, bringing elegance and joy into the daily lives of young people, unleashing the innate vitality of the East. Traditional Chinese Herbal Nourishing Makeup! HANGFANG ZHI CUI YANG ZHUANG Adhering to the concept of traditional Chinese herbal nourishing makeup and utilizing modern technology, we create makeup products that are gentle and nurturing, achieving the beauty of healthy skin.
30-Day Price Match
Send us the screenshot/screenrecord of your item purchased from us on other web that ships to your location with a proof of time and date. We will refund you the price difference.
1-Year Rain Check
Send us a screenshot of the SOLD OUT sale item you'd like to buy, we will send you a rain check voucher to lock in the price for you to purchase in the future.
(1). Shipping Fee:
Free worldwide shipping when you spend $39.00 (US/EU/UK) or $69.99(ANZ/CA/CH) or more.
US/EU/UK/ASIA: $4 for order < $38.99
ANZ/CA: $10 for order <$39.99; $6 for order < $69.98
(2). Shipping Time & Countries 
With the registered airmail, you could track the delivered information until you receive it. It is safe for the parcel and you can track the delivered information all the way to your home.
1-2 weeks for most Asian countries;
2-3 weeks for United States, Australia, India, most of European country
2-4 weeks for Canada, Russia, Italy, France, Spain, Saudi Arabia, Israel, Philippines, Africa country, some other country;
3-5 weeks for the South America country or some island country.
Note: Due to the COVID-19, the delivery time may delay. We appreciate your patience during this time.