CHIOTURE 7-Color Eyeshadow Palette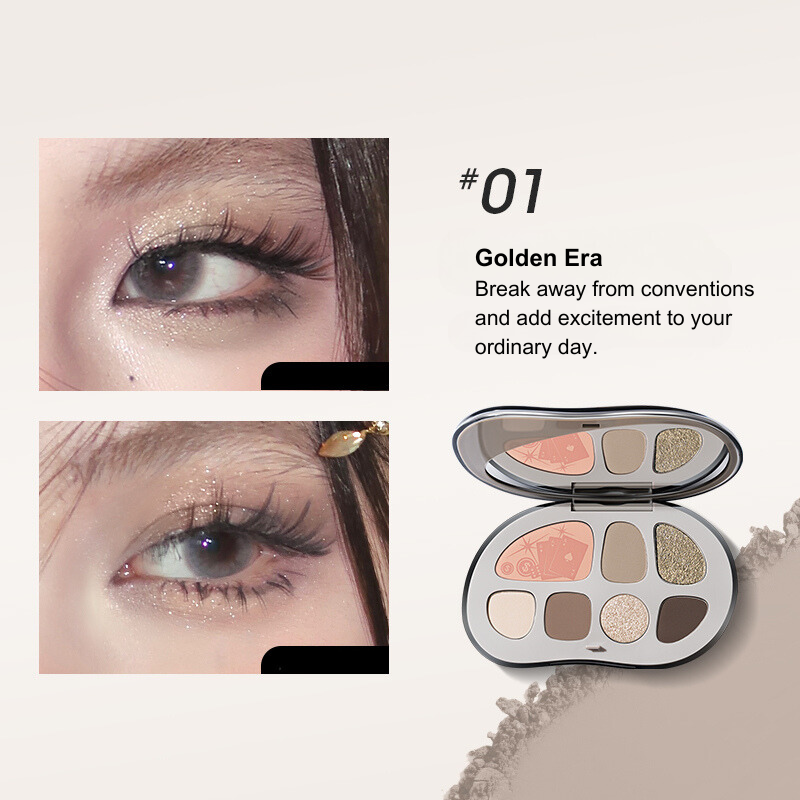 CHIOTURE 7-Color Eyeshadow Palette
Welcome

Signup & receive $5, invite to earn more
Regular price
$26.99 USD
$26.99 USD
Free worldwide shipping when you spend $39.99 (US/EU/UK/ASIA) or $69.99(ANZ/CA/CH) or more.
In stock, ready to ship

Inventory on the way
Elevate your makeup game with the CHIOTURE 7-Color Eyeshadow Palette. Like the opening act of a grand ball, this palette weaves dreamy light and shadows across your fingertips. It brings alluring hues to your eyes, inviting you to embark on a series of enchanting adventures.
Mesmerizing Hues and Seamless Blending: CHIOTURE's multi-color eyeshadow palette is a harmony of textures and colors. It effortlessly blends on your skin, allowing you to create imaginative makeup looks. The unique elastic powder-locking matrix ensures all-day color retention, and its smudge-proof formula keeps your eyes looking fresh.
Advanced Micro-Grinding Pigments: The palette combines ultra-fine grinding pigments with spherical powder fusion technology for an exquisite color payoff.
Available Shades:
#01 Golden Age: Embrace a golden and silver interplay of floating lights, singing an ode to vivacious colors. Let your creativity run wild and break free from the ordinary with this versatile palette featuring earthy tones complemented by a glistening satin finish.

#02 Versailles Waltz: As nightfall brings the dance of love, this palette crushes moonlight into powdery roses, weaving a magnificent satin fabric. It's an invitation to a romantic dance with soft, cool-toned pinks meeting delicate moonlight.

#03 Western Tango: Venture into the wild, wild west, where ambition and allure reign. Let the lively spirit of the West inspire your makeup as you explore this palette's warm, rustic red-brown and woody gray-brown shades, complemented by dazzling gold flecks.

#04 Midnight Phantom: In the midst of mystical, mesmerizing lights and impassioned but aloof melodies, masks conceal secrets. This palette combines low-saturation cool Mauve and intense rebellious purple-black tones for a dark, captivating look.
Indulge in the world of CHIOTURE 7-Color Eyeshadow Palette and create captivating eye looks that go beyond the ordinary. Perfect for makeup enthusiasts and those looking to add a touch of magic to their daily routine.
Product Details:
Net Content: [Specify the amount]
Smudge-proof formula
Long-lasting color retention
Usage: Apply the eyeshadow as desired to create your unique eye makeup looks. Blend and experiment to achieve your desired effect.
Storage: Store in a cool, dry place away from direct sunlight.
Chiouture is a cosmetics brand that focuses on becoming a "global trend makeup catcher". It is committed to customizing the exclusive makeup for every individual woman. By integrating trendy colors and clear elements, chiouture aims to create a vibrant "lifestyle" brand creative makeup and is committed to finding a makeup design suitable for every woman.
30-Day Price Match
Send us the screenshot/screenrecord of your item purchased from us on other web that ships to your location with a proof of time and date. We will refund you the price difference.
1-Year Rain Check
Send us a screenshot of the SOLD OUT sale item you'd like to buy, we will send you a rain check voucher to lock in the price for you to purchase in the future.
(1). Shipping Fee:
Free worldwide shipping when you spend $39.00 (US/EU/UK) or $69.99(ANZ/CA/CH) or more.
US/EU/UK/ASIA: $4 for order < $38.99
ANZ/CA: $10 for order <$39.99; $6 for order < $69.98
(2). Shipping Time & Countries 
With the registered airmail, you could track the delivered information until you receive it. It is safe for the parcel and you can track the delivered information all the way to your home.
1-2 weeks for most Asian countries;
2-3 weeks for United States, Australia, India, most of European country
2-4 weeks for Canada, Russia, Italy, France, Spain, Saudi Arabia, Israel, Philippines, Africa country, some other country;
3-5 weeks for the South America country or some island country.
Note: Due to the COVID-19, the delivery time may delay. We appreciate your patience during this time.